Storage/Mobile Home Door
Heavy-duty, continuous-hinged, laminated door designed for portable buildings, sheds, mobile homes, garages and shops. Built with a sturdy aluminum frame, stainless steel continuous hinge rod, and a variety of skin material and color options, our most popular entry door.
Heavy duty continuous hinge

1/8″ stainless steel continuous hinge rod
6 hinge tabs with (3) # 9 climaseal screws per tab holding core to outside frame

1 lb. density polystyrene pvc laminated core
.050 wall aluminum extrusion
Each E1 HD L door has 2 seals

Inner 3/4″ x 1/4″ foam seal
Outer vinyl bulb seal

Heavy Duty, 1/8″ off-set striker plate prevents doors from "popping open"
Several choices of door skin material

.019 embossed painted aluminum
.014 galvanized embossed painted steel
.045 frp (fiberglass)
Commercial Grade Door
These 3 1/2″ jamb doors are ideal for commercial buildings and can be ordered in a variety of different configurations to suit your individual needs. Standard sizes are 36 x 72, 36 x 76, and 36 x 80. Custom sizes are available as well.
3 1/2″ aluminum jamb with or without a flange
For doors ordered without windows, a threshold is on the top and bottom of the door which allows it to be mounted left or right hand
Door can be in or out swing and must be specified when ordered
29 ga. smooth steel skin
2.2 lb. density polyurethane foam core
General Shelters offers one-stop shopping for all your fastener requirements to help build your structure quickly, easily and with confidence. We stock the following screws and anchors and have many more sizes available. These screws are available in all our standard metal colors too!
Fiberglass Insulation:
3″ R10 WMP-VRR specifically designed for metal buildings with reinforced laminate on one side providing a vapor-barrier facing.
Fiberglass is an excellent insulator and has been widely used in the United States for decades in all types of construction.
Bubble Wrap:
Reflective Insulation provide 97% radiant heat reflection, increases thermal resistance (R value) and acts as a vapor barrier. It will keep the building cooler in the summer and warmer in winter.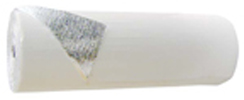 Closures:
Specially designed 1″ wide foam rubber "closure strips" for eaves, base and roof. Interlocking end tabs allow quick and easy installation.
Inside/Outside
AG Panel / R Profile
Roof Jack (Pipe Flashing):
All weather resistant sleeve flexibility accommodates vibration and pipe movement caused by expansion contraction. Designed to seal openings in a building roof accommodating vent and exhaust pipes up to 26" in diameter.
#3 – 1/4″ to 4″
#5 – 4″ to 7″
#8 – 7″ to 13″
#10- 13″ to 26″